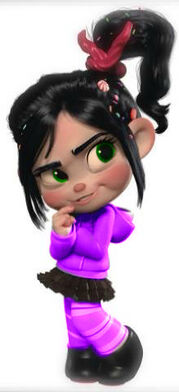 "Candy-ollope Vondestiny Schweetz"
Apperance
Candy-ollope is a Fanon character,she's a color swap of Vanellope and she's also is her sister. She has a purple hoodie like her sister Vanellope. Her hair is black, her skirt is brown and her legings are purple and boots are black and her eye's are green. She also has red twizzlers that hold up her hair that is the same color as under her shoe. 
Her story
In Sugar Rush Race o' Manina 3, Candy finds her way around her game and then meet's Vanellope. Vanellope remember's her before they every ever meet. So they became sister's and Vanellope helped her find her way around Sugar Rush and meet the racer's. She like's all of them except Rancis. He always gliching on her. She meet new friends named Sour Grape Sweetellope, Laffy. There her best friends in Sugar Rush Royal Speedway 2. she also has a cousin named Vanillaope, she love's her cousin so bad that she want

's to be like her. 

Candy-ollope Von Schweetz

Information
Full Name

Candy-ollope vondestiny Schweetz

Nickname(s)

Can-Can

Gender

Female

Date of Birth

February 23, 2012

School

Sugar Rush Academy

Family
Parents

Unknown

Siblings

Vanellope von Schweetz (Sister)

Vanillaope von Schweetz (cousin)

Cherry-ollope von Schweetz (Twin Sister)

Pinkie Bon Sweetheart (Cousin)

Jellybeanie Bon Sweetheart (Cousin)

Emily Von Schweetz (Sister)

Friends

Laffy Sratwperry, Choco candy-ollope von schweetz,Grenny von Chocolaty,Thifanny von Schweetz,Citrusella Flugpucker,Rancis Fluggerbutter,Taffyta Muttonfudge

Production
Portrayed By

Kristen Schaal

Family Background

Candy doesn't know her parent but she does remember how they died. It started by Turbo coming and taking over there game. Trubo took over there game and restarted the game and locked all the racers memorys away and then deleted some of the racers! 

Candy's Theme songs 

Candy-ollope - Go Candy Go ((From Ojamajo Doremi))

Ojamajo Doremi- Merry-Go-Round
Community content is available under
CC-BY-SA
unless otherwise noted.