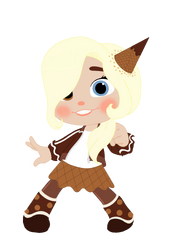 Sundae Lil' Cone is one of the 11 racers in the game Sugar Rush Speedway 2. Her theme centers around Drumstick ice cream. Her signature kart is the Drumstick.
Official Bio
"Sweet but Sensible"
Sundae is a shy girl who takes no nonsense! She may let a few things slide here and there, but some things she does not have the time or sensibility for.
Appearance
Sundae is a young girl with pale sand-like skin, rosy cheeks, one blue and brown eye, and a blonde ponytail. She wears a small waffle cone with fudge on top and nuts surrounding it. Her jacket is brown with white stripes and her t-shirt is plain white. She also wears a waffle cone skirt with brown leggings with light brown dots. When racing, she wears a drumstick ice cream helmet with a light brown visor, along with her cone sticking out.
Trivia
Her fans are anthropomorphic Hershey Kisses.
She is the only racer to have a waffle cone skirt.
She shares stats with Candlehead (from the online adaptation).
Her original name was going to be Sundae Vanillafudge.
Her last name 'Lil' Cone' is a reference to "Lil' Drums" ice cream and her small waffle cone.
She and Neapolita seem to be the only racers based around frozen treats.
Gallery
Community content is available under
CC-BY-SA
unless otherwise noted.